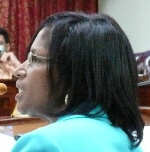 The Frederiksted Health Center requested a 2010 budget of just under $1.8 million during Senate budget hearings Tuesday.
The clinic is run as a private nonprofit organization with federal and local funding along with revenues it generates from the fees it charges for services. It has a mandate to provide health care without regard to ability to pay. It also operates the school-based health center at St. Croix Educational Complex.
The clinic's request is $262,000 more than Gov. John deJongh Jr.'s budget recommendation of almost $1.5 million.
Masserae Sprauve-Webster, the clinic's director, said the clinic was asking for more money than the governor's recommendation in order to offer better salaries. The clinic "has continued to have a high turnover rate due to our inability to compete with the salaries in the local health industry," she said. "Physicians have literally laughed at salary offers of $85,000 for full-time employment."
Most doctors in the Virgin Islands make between $110,000 and $145,000 and work less than 40 hours a week, she said.
The clinic's Frederiksted facility has been closed for mold remediation since April 2008, when operations moved to a wing of the Herbert Grigg Home for the Aged in Kingshill, about a 15-minute drive from the Frederiksted center.
Since the move to Kingshill, the clinic has seen a reduction of about 500 patients, Webster said. In 2008 the clinic saw 10,408 patients, of whom 50 percent were uninsured and another 38 percent were covered through the local Medical Assistance Program, she said.
Mold cleanup, along with some minor renovations and a major air-conditioning overhaul, was meant to last four to five months. But delays in getting funding have held up the work, projected to cost more than $1 million, Webster said. The clinic will get $387,000 in federal funds for the work from the recent stimulus package, she said, and may have enough money due it from the Virgin Islands Government to pay for the rest.
"The Board of Directors of Frederiksted Health Care, Inc. has made the commitment to invest $1 million dollars of program income funds that are in the possession of the Virgin Islands Government in the renovations of the facility," she said.
Requests for bids have been distributed for the mold remediation, Webster said, but negotiations were continuing on some changes in the scope of work. Renovation and repair bids have not been requested yet.
No votes were taken at the budget oversight hearing. Present were Sens. Craig Barshinger, Carlton "Ital" Dowe, Wayne James, Terrence "Positive" Nelson, Nereida "Nellie" Rivera-O'Reilly, Sammuel Sanes and Patrick Sprauve.