Carmen Marie Williams died on July 2, at her residence. She was 65 years old.
She is survived by her devoted husband of 33 years, former Se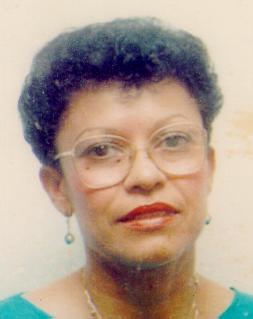 nator, Commissioner St. Claire N. Williams of the Department of Housing, Parks and Recreation; daughters: Angeline Muckle Jabbar and C
l
arissa Williams; son: St. Clarie N. Williams Jr.; grandchildren: Omar Jabbar, Shequan Williams, Christopher Galloway, Kaiya Williams and Ili
ssa Charles; daughter-in-law, LaTonya Williams; son-in-law, James Charles Jr.; and mother-in-law, Agneta Williams. She is also survived by sisters: Marta Santana and Miguelina Rodriquez; brothers: Maelo, Felix and Roberto Rodriquez; other family and friends: Herbert and Julia Gaton, Mr. and Mrs. Cabrel, Edwin and Condon Joseph, Dorothy Gibbs, Mr. and Mrs. Othniel Caines, Ben and Luz Nazario, Armelle Ferdinand, Wayne Roebuck and family, Norman and Vicky Johan
sen, Ivan and Lillian Ayala, Allan and Marble Brady, the deChabert family and the Muckle family, caregivers: Mary Donavan, Vitaliene Phillip and Marie Antoine; as well as other relatives and friends too numerous to mention.
There will be a viewing at 9:30 a.m. and a funeral service at 10:30 a.m., on Friday, July 10, at St. Ann's Catholic Church. Interme
nt will follow at Kingshill Cemetery.
Professional services are entrusted to James Memorial Funeral Home Inc.