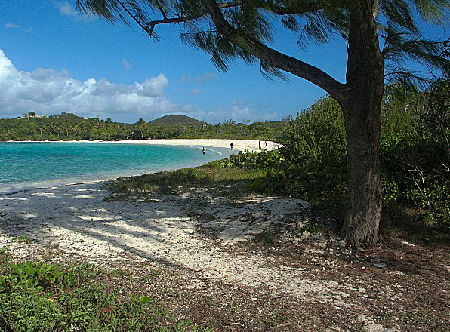 Lindqvist is, for a variety of reasons not easily quantifiable, one of the most stunning beaches on St. Thomas and, maybe, anywhere. This secluded, quarter-mile crescent of sand offers unparalleled down-island views to anyone willing to go a little off the beaten path. Virtually empty during the week, its status as one of the few remaining undeveloped beaches on St. Thomas make it a popular spot for weekend barbeques and birthday parties.
Even so, if it's alone time you crave, a walk east along the shore will take you to your own little slice of St. Thomas heaven. Beware, though, that much of the beach offers little shade. Stands of shore-pines and seagrape trees at either end will provide some protection.
Adventure Factor: Medium.
Shade Factor: Medium to High.
Ocean patrol: The beach is fairly exposed and often has small waves but, in general, it's nothing a sturdy four-year-old couldn't handle. There is snorkeling, but as much of the reef is very shallow and there is generally a cross-shore current, you'll want to know what you're doing and exercise caution.
Food and Drink!: Only what you bring.
Peace Factor: High.
Sports: Only what you bring.
Family Factor: Medium to High.
Extras: Far, far from the maddening crowds. (Most of the time.)
Getting There: Located at the end of a dirt road that starts at an opening in a chain link fence roughly midway between Sapphire Beach and Red Hook, Lindqvist is most easily accessible by car. However, if you know where you're going and are willing to take short walk, it can be reached by taxi or the dollar ride.