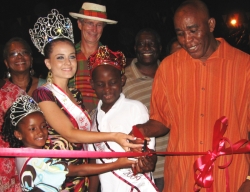 With a snip of a red ribbon, James Penn and the royal court opened the July 4th Celebration Village named in Penn's honor. It's located across from the post office in Cruz Bay.
"Come to St. John and spend money," Penn said earlier as he spoke about his long involvement with the July 4th Celebration.
Penn has been part of the festivities for nearly two decades, holding the chairmanship until Leona Smith took over several years ago.
While the village wasn't officially open until Penn cut the ribbon, residents and visitors began gathering a couple of hours earlier to eat, drink and socialize.
Some made their first visit in many years just for the event.
This was the first time Kissimmee, Fla., resident Hilda Harley had been home in nine years. She came to see her brother, former St. John Administrator Julien Harley, and to join in the festivities.
"I'm trying to give my kids the experience of where they came from," she said over the thumping music that serves as a hallmark of the village.
St. John resident Alvis Christian was hanging out with Crystal Fortwangler, who for some years was a frequent visitor to St. John as she worked on cultural projects as part of her graduate education.
"It feels so good to be on St. John," she said. "I'm thrilled to be here."
Christian, who was off island facing health issues this time last year, was pleased to be at the village.
"It's great to be home," he said.
Others were first time village goers.
Maria Galofaro of Dix Hills, N.Y., first visited St. John four years ago on her honeymoon.
"When we decided to do a vacation, we decided to do it at Carnival," she said.
On the other side of the Creek, the Rotary Club of St. John had set up a Children's Village. Kids were busy being strongmen, launching fake frogs into a pond and enjoying the rest of the games.
"I'm having a fun time," said Logan Sheif, 12, of Flemington, N.J. He was on St. John to visit his mother, Kimberly Morris.
While Penn was getting accolades and the kids were having a good time, the Love City Pan Dragons drew a crowd to listen to their steel-pan music.
"They have such great rhythm," said Jon Petronzio, a music teacher from Ithaca, N.Y. He's spending time in the Virgin Islands on tour with his band, Revisions.
While everyone was out having fun, several people reminded them to be safe. Sen. Craig Barshinger said that people should bring only their dancing feet to the village.
"If you bump someone, say, 'Sorry,' and, 'Come bump with me,'" Lt. Gov. Gregory Francis added.