Local sports — St. Croix
Kings Edge Lakers, 69-67; Boys Dem Rally by Dread Is, 75-66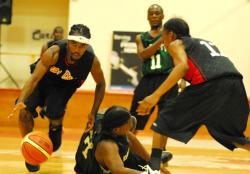 The Kings and Boys Dem were Saturday's winners in the New Breed Basketball Association summer league action at the Ronald Charles Gymnasium on the Central High School campus. The Kings withstood a fourth quarter rally to edge the Lakers, 69-67, in an exciting contest that went down to the wire, and Boys Dem had to overcome an eight point halftime deficit to beat Dread Is, 75-66.
Kings 69, Lakers 67


On a quiet night from star player Craig Williams, the Kings got a big game from Devante Pryce who finished with 16 points and 11 rebounds in the two-point victory over the Lakers. But it wasn't an easy victory.
Leading by nine points at 56-47 heading into the fourth quarter, the Kings just barely held off the Lakers' closing rush, outscoring the Kings 20-13 in the period to come up just short.
Three other Kings reached double figures in points with Jermaine Mulley knocking down 13 and Nybo Rodgers and Markie Perinon finishing with 12 points apiece.
Boys Dem 75, Dread Is 66
Boys Dem have now established themselves as the team to beat in the NBBA after knocking off two of the league's top three teams in their last two games. The Boys used a 30-17 third period to rally from an eight point halftime deficit to take a 53-48 lead at the end of three quarters.
They then went on to outscore Dread Is 22-18 in the fourth to wrap up the hard fought 75-66 victory.
Zomari Swanston led the winners with game highs in points, 20, and rebounds, 11. He was ably supported by Rasheed Swanston with 13 points, Wilson Ferrance and Saleem Ross both with 12, and floor general Kadeem Jones who finished with 10 points and six assists.
For Dread Is, Lloyd Gilbert had 16 points and nine rebounds and Timothy Sneed finished with 12 points.