Local news — St. Croix
John H. Woodson Jr. High Seeking Accreditation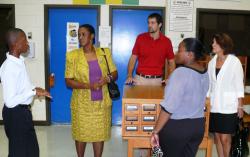 St. Croix's John H. Woodson Jr. High will become the first accredited junior high school in the territory if all goes well with an accreditation visit this week by the Middle States Association of Colleges and Schools.
"If we are successful we will be the first public junior high school in the territory to be accredited," Woodson Principal Vaughn Hewitt said Wednesday evening, while awaiting the arrival of the Middle States validation team. "We first started this process nearly six years ago but we had to wait, since the school had a number of issues with the physical plant – mold, humidity, temperature issues," he said. Since then, all the major repairs and renovations have been completed and, last year, the school restarted the process.
Teachers, staff, students and parents are all excited and school staff had been working almost around the clock trying to make sure the school is as ready as possible, Hewitt said.
In preparation for this week's site visit, Woodson spent the past year in self-study, which includes a thorough internal review of all policies, procedures, facilities, student needs and academic content.
During the review process, Middle States looks at how each school meets its 12 "standards of quality," and the self-study is conducted to highlight strengths and pinpoint areas in need of improvement. An action plan is then generated and presented to the association's representatives for review.
"I'm sure all the hard work we have done will show up in the report," he said. But the accreditation process is a means to an end, and good for the school and its students however it goes.
"We want to use Middle State's inspection as a learning process," Hewitt said. "The Middle States report will help us identify the areas we need to work on, so we can improve them to make the school a better place. I think that is the most important thing about this process."
Accreditation does not bring funding or resources to bear, so much as it gives positive feedback and the pride of having met rigorous national standards, he said.
Around 5:30 p.m. Tuesday, Education Commissioner LaVerne Terry arrived, and a few minutes later, so did the four-person Middle States team.
"All the teachers and staff at John H. Woodson should be commended for all their hard work," said validation team chairwoman Priscilla Feir, a retired public school superintendent in Pennsylvania, who now directs a private school in New York. "They have gone through years of self-study based on the 12 Middle States standards," Feir said.
Joining Feir on the team were Chevell Simeon, a teacher and St. Peter and St. Paul School on St. Thomas; Collin Tanzey, a teacher at the Caribbean School in Ponce, Puerto Rico; and Jackie O'Neal-Pickering, a Spanish teacher at Bertha C. Boschulte Middle School on St. Thomas. Boschulte became the first accredited school below the level of high school, back in 2008. It was reaccredited earlier this year.
After the introductions were complete, two Woodson eighth-graders: Esmeralda Villar and Esaias Charles, led the team on a general tour of the school, explaining to the visitors how the school was laid out and telling them what each room was used for.
The inspection begins in earnest Wednesday and will continue through Friday.
In about four to six weeks after the accreditation visit, Middle States will report back to Woodson with the outcome, according to Education officials.