Local news — St. Croix
Hispanic Collection Opens in Library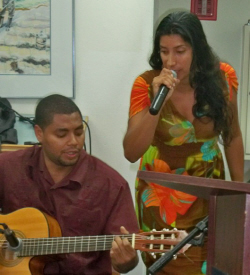 Bad news has been hitting St. Croix of late but there was no sign of it Friday night at the Florence Williams Public Library as about 80 residents smiled and applauded as the Virgin Islands-Puerto Rico Friendship Committee officially opened La Coleccion Hispana, in celebration of Hispanic Heritage month.
Diego Conde, local art photographer, spoke about his idea for the Hispanic collection coming to fruition. He read in 1993 where 75 percent of Hispanic kids were failing in school.
"This was alarming and inconceivable," Conde said. "Something had to be done." He added kids were lacking pride and knowledge of Puerto Rican culture. He passed this on to a professor at the University of Puerto Rico and the University gave copies of all the books from the University press, plus more.
Spanish songs sung by Adriana Veliz and guitar playing by Rivert Diaz set the mood for the inaugural.
Many dignitaries attended including Delegate Donna Christensen, Commissioner Alicia V. Barnes of the Department of Planning and Natural Resources; Ingrid Bough, Territorial Director of Libraries and Sens. Ronald Russell, Samuel Sanes and Nereida "Nellie" Rivera- O'Reilly.
Carmen Miray gave snippets of stories in Spanish with an invitation to read. Richard Schraeder read "Reflections on Friendship."
The collection includes books by Isabel Allende, Franz Kafka and Alexandre Dumas. There were cookbooks, encyclopedias, biographies and harlequin romances, children's' books and more on 22 shelves in a corner of the main floor.
The Division of Libraries, Archives and Museums has partnered with the Committee.
"With tough economic times and limited budgets, a collaborative effort was necessary to complete this project in its infancy which will now allow the Spanish collection to develop immensely moving forward," Barnes said.
The committee embarked on the project in 2006 in acquiring space in the Florence Williams Public Library for the Collection. In 2007, under the leadership of Zoraida Jacobs, a dedication took place at the library. That was the stepping stone towards another phase of the project.
In 2009, the Division of Libraries, Archives and Museums acquired some Spanish books through the Library of Congress Free Surplus Books Program. The books, though on island, weren't in circulation due to budget cuts and the lack of a bilingual librarian to do cataloging.
The VIPR Committee held two "Arroz con Pollo" fund-raising festivals for a bilingual professional librarian/cataloguer. With the proceeds from the festivals, the VIPR committee hired Margaret Colón, library automation consultant from Puerto Rico. Colon and the library personnel on St. Croix and St. Thomas worked as a team through a very lengthy process to make the collection a success.
In early 2011, to supplement the collection, the Division ordered approximately 400 Spanish books with the review and selection by the VI-PR committee.
"The collaborative efforts to enhance and provide library service to our Hispanic community are a demonstration of dedication and diligence in an effort to make a shared vision a reality. We now showcase over 800 books in Spanish which is an asset and service to the community," Ingrid Bough, territorial director of Libraries, Archives and Museums said.
The theme for friendship days is "In difficult times unity is the key to success."
Domitila Vargas, VIPR Chairperson, encouraged people to visit the library and to to be sure to bring children.
Vargas said they are looking for help with monetary donations or books. For more about giving, email Astrid England-Reyes, VIPR president, at aengland@vipowernet.net.
The library's website has resources under the online tab Biblioteca En Espanol. For more information go to the Virgin Islands Public Libraries website.