Local news — St. Croix
Preparations Proceed for Primary Elections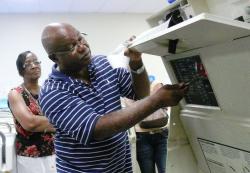 Separated by 40 miles of water, the territory's two boards of elections spent Wednesday and Thursday testing and certifying voting machines in preparation for party primaries coming up Sept. 8.
With the assistance of private companies contracted to give technical service with the electronic devices, board members went through a simple, multistep checklist with one machine after another.
Under the watchful eye of a half dozen St. Croix residents and several St. Croix Elections Board members, Patrick Phillips, the owner of P and P Communications, opened up the machines, setting them up with a ballot, and guiding board members and observers through the testing procedure.
Phillips explained how the machine translated the voters' button-pushing to the final vote count.
In opening up each machine, Phillips went through the process of checking and removing its color coded, numerically tracked seals, zeroing out the vote counter and setting it up for voters.
"There is no internet connection or any way to interface with the machine to affect how it counts votes," Phillips said.
Each machine has a sealed counter, tracking the lifetime total number of votes cast on that machine. There is no way to cast a vote without changing the counter number, and the total is recorded and tracked before and after each election, Phillips said.
Asked if there were any way for anyone to change or manipulate the voting machine's software, Philips said there was no software and no way to change or interfere with the machine's operation.
Matthew Lilly, president of the company that services the machines, elaborated on how they work.
"It has embedded firmware," Lilly said, explaining that the program that records votes on digital cartridges is built directly into the circuitry of the machine, so there was no way to modify it.
Lilly said he was intimately familiar with the design and its safeguards.
Later Philips placed a ballot on the machine, lining it up over a grid of lights and buttons, and St. Croix Board of Elections members performed test votes, signing a paper backup roll through a little window on the front of the machine, then selecting a series of candidates. (Primary ballots for St. Croix and for the St. Thomas-St. John districts can be viewed here.)
The cartridges that record votes electronically are assigned to a specific machine, and if one is inserted in the wrong machine, it will give an error code, Phillips said. Before the cartridge is installed into each machine, the respective district board certifies that there are no votes in the cartridge and it is ready to accept votes. Each machine has a 12-hour backup battery that kicks in if the power goes off.
The machines used currently were made by Shouptronic and were bought in the late 1980s. They were retrofitted a few years ago to accommodate the visually impaired. Now, rather than needing assistance, the visually impaired can cast their votes in private and independently by using a specialized hand-held remote control and headphones.
This may the last election for these machines.
In April the Joint Boards of Elections, which oversees the two territorial boards and is comprised of members of each, voted to enter into a $526,000 contract with Nebraska-based Election Systems and Software to purchase 43 new voting machines.
"They are really tabulators rather than voting machines," St. Croix Board of Elections Chairman Rupert Ross said Thursday morning. The new machines will digitally tabulate and store paper ballots filled out by voters, Ross said.
There is no credible evidence that the current machines can be tampered with to affect vote tallies. But some electronic voting machines of more recent manufacture have been shown to be prone to manipulation, creating doubts about the reliability of electronic voting machines, especially those that lack a voter-verified paper record.
While the new machines are under contract, they have not been purchased in time for this election, because the money currently is frozen until the St. Thomas-St. John District Elections office becomes compliant with the Americans with Disabilities Act, Deputy Supervisor of Elections James Weber II said Thursday. But that work is largely complete, and barring something unforeseen, the new machines should be in place well before the 2014 election, Weber said.