Local news — St. Croix
Isaac Brings Sun, Rain, Clouds and Wind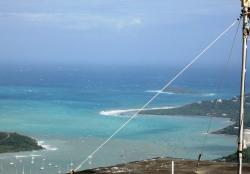 The territory remains on a tropical storm warning as Tropical Storm Isaac continues on its way, but meteorologist Walter Snell at the National Weather Service in San Juan said he anticipates it will be lifted at the 11 p.m. Thursday update from the National Hurricane Center.
As of 8 p.m., the storm was 195 miles southwest of San Juan, but because it's huge, covering 160,000 square miles, its effects will continue until Saturday.
"It's still pumping out moisture," Snell said.
He said the wind will start decreasing Thursday night although it will continue to come out of the southeast, but the showers will continue at least till Saturday.
While meteorologists predicted this would be a rain maker, this hasn't been the case across the Virgin Islands.
On St. John, the sun came out so frequently, it was possible to soak up a tan in spots out of the wind. A St. Croix Source reporter said it was rainy, cloudy and windy all day, and on St. Thomas there appears to have been a bit more sun.
It appears that how strong the wind was depended on where you were. At 8 p.m., the wind was still blowing.
Weather Station Zephyr sits at about 700 feet on Ajax Peak, St. John, where sustained winds of 24 mph around 5 p.m. were reported. The highest wind gust – 45 mph – came around noon. Other gusts ranged between 35 and 44 mph throughout the day. Only .10 inches of rain fell between midnight and 4 p.m.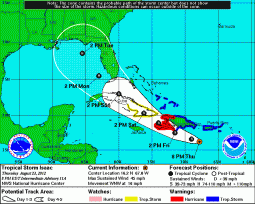 Snell said that Cyril E. King Airport on St. Thomas got .39 inches of rain between 5 p.m. Wednesday and 5 p.m. Thursday. The maximum wind gust was 45 mph at 2:46 p.m.
At Henry E. Rohlsen Airport on St. Croix, .34 inches of rain fell in the same time period. It also had a maximum wind gust of 45 mph.
Flash flood advisories remain in place until 8 a.m. Saturday.
Airports on both islands were open Thursday, but seaports remained closed. U.S. Coast Guard spokesman Ricardo Castro said mid-afternoon that the Coast Guard must inspect the ports to make sure things like navigational aids are in place before they can reopen.
The closing of the ports means that ferries between St. Thomas and St. John did not run Thursday. However, the V.I. Territorial Emergency Management Agency said late Thursday afternoon that ports are expected to open at 10 a.m. Friday.
The Coral Bay area of St. John had a phone outage Thursday morning, and Internet and power outages were reported on St. Croix.
As of the 8 p.m. update, Isaac had winds of 45 mph with higher gusts. The tropical storm force winds extend outward 185 miles mainly to the northeast of the center. It was moving west-northwest at 16 mph.
Isaac was centered at 16.2 degrees north latitude and 67.8 degrees west longitude. The barometric pressure stands at 1002 millibars or 29.59 inches.
Tropical Depression 10 got the name Tropical Storm Joyce at the 11 a.m. update Thursday. The storm will pass well to the northeast of the territory.
Meteorologists are also keeping an eye on a tropical wave that just popped off the African coast. It's far too early to tell its impact, if any, on the Virgin Islands.