Local news — St. Croix
TD 7 Forms in the Atlantic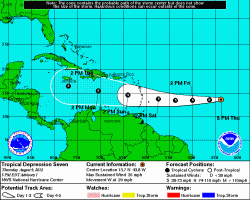 Like bowling balls down the Atlantic Ocean alley, tropical weather systems continue to head toward the Caribbean. The latest development is Tropical Depression 7, which the National Hurricane Center gave a number at the 5 p.m. update on Thursday.
"It's very uncertain how it's going to go," said Walter Snell, a meteorologist at the National Weather Service in San Juan. "The intensity is uncertain too."
He said the models wildly disagree, with a few taking the storm northeast of the territory. "None have it right over," he said.
Snell is hopefull, however, because TD 7 seems to be moving slightly south as it moves west, and a high pressure ridge to the north should help keep it south, he added.
He said if it continues on its current track, it should pass to the south of St. Croix on Sunday. The forecast has it as Tropical Storm Gordon.
As of 5 p.m., TD 7 had winds of 35 mph and was moving west at 20 mph.The barometric pressure stands at 1010 millibars or 29.83 inches.
TD 7 was located at 13.7 degrees north latitude and 43.8 degrees west longitude or about 1,115 miles east of the Windward Islands.
Forecasters also have their eye on another system just popping off the African coast. The National Hurricane Center gives it a 20 percent chance of developing into something stronger in the next 48 hours.
Snell said that one is poised to go northwest right away and continue on it that direction. "But it's kind of a monster," Snell said.
As if that wasn't enough, a bout of Saharan dust rolled in around noon Thursday, blanketing the area with a haze. Snell said residents can expect more of the same Friday.
The National Oceanic and Atmospheric Administration also picked Thursday to send out its updated predictions for the season. With six named storms to date, NOAA said the rest of the season may be busy. For the entire season, NOAA predicted 12 to 17 named storms with top winds of 39 mph or higher. These figures include five to eight hurricanes with top winds of 74 mph or higher. Two to three could be major hurricanes with winds of at least 111 mph.
NOAA's numbers are in line with what Colorado State University hurricane forecasters Phil Klotzbach and William Gray said on Aug. 3. They predicted a total of 14 named storms for the entire hurricane season. They expect six to become hurricanes, with two becoming major hurricanes carrying sustained winds of 111 mph or greater.
NOAA's numbers are higher from the initial outlook in May, which called for nine to 15 named storms, four to eight hurricanes and one to three major hurricanes. Based on a 30-year average, a normal Atlantic hurricane season produces 12 named storms, six hurricanes and three major hurricanes.
The updated outlook still indicates a 50 percent chance of a near-normal season, but increases the chance of an above-normal season to 35 percent and decreases the chance of a below-normal season to only 15 percent from the initial outlook issued in May.
"We are increasing the likelihood of an above-normal season because storm-conducive wind patterns and warmer than normal sea surface temperatures are now in place in the Atlantic," Gerry Bell, lead seasonal hurricane forecaster at NOAA's Climate Prediction Center, said in a Thursday press release. "These conditions are linked to the ongoing high activity era for Atlantic hurricanes that began in 1995. Also, strong early-season activity is generally indicative of a more active season."
However, NOAA seasonal climate forecasters also announced today that El Niño will likely develop in August or September.
"El Niño is a competing factor because it strengthens the vertical wind shear over the Atlantic, which suppresses storm development. However, we don't expect El Niño's influence until later in the season," Bell said.
Forecasters cautioned that hurricane season has until Nov. 30 before it officially ends.
"We have a long way to go until the end of the season and we shouldn't let our guard down," said Laura Furgione, acting director of NOAA's National Weather Service.
Tim Manning, the Federal Emergency Management Agency's deputy administrator for protection and national preparedness, urged residents to be prepared.
"We are in the middle of hurricane season and now is the time to get ready. There are easy steps you can take to get yourself and your family prepared," he said.
Visit www.ready.gov to learn more about hurricane preparation.