Local news — St. Croix
Ernesto to Bring Wind, Rough Seas to St. Croix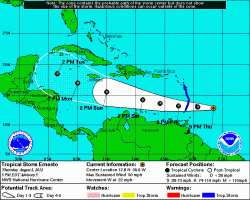 Tropical Depression 5 grew into Tropical Storm Ernesto Thursday at the 5 p.m. update from the National Hurricane Center. Meteorologist Luis Rosa at the National Weather Service in San Juan said Ernesto will bring windy conditions and rough seas, mainly to St. Croix, starting at around midnight Friday.
"It's not going to be a beach day in St. Croix," he said.
He urged St. Croix residents to secure loose objects like garbage cans so they don't take flight as wind gusts 25 to 35 mph.
As for the northern islands of St. Thomas and St. John, Rosa said residents there shouldn't see much in the way of weather.
Ernesto's projected track was moved further south Thursday and is now expected to pass 282 miles south of St. Croix, a change from the 170 miles on Wednesday.
Tropical storm force winds extend outward up to 115 miles from Ernesto's center. They are mainly to the north and northeast.
More strengthening is possible, Rosa said.
As of 5 p.m., Ernesto had winds of 50 mph and was moving west at 22 mph. Ernesto's center was located at 12.8 degrees north latitude and 56.6 degrees west longitude or about 647 miles east-southeast of St. Croix.
The barometric pressure stands at 1006 millibars or 29.71 inches.