Local news — St. Croix
Weathervane Returns to Steeple Building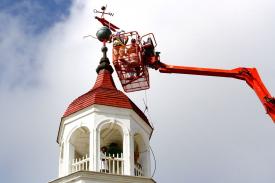 A familiar sight returned to the Christiansted skyline Saturday as workers hoisted the Steeple Building's historic weathervane back onto its tower. The weathervane had been damaged during Hurricane Omar in 2008 and subsequently removed for repair.
"Originally we were supposed to replicate it," said Arthur Fromer of Tip Top Construction. "But when we got it down, it was apparent that really, except for the flag … the rest of it was acceptable the way it was, and it would be preferable to use these historic materials rather than replace it."
The original metal flag and compass atop the weathervane snapped off during the storm, but the base, a large iron ball, was intact.
Craftsmen did extensive research to find a historically appropriate design for the new compass and flag, a design that would blend seamlessly with the historic components of the weathervane. Ultimately, they modeled it after a 150-year-old Danish flag the park had in its archives.
Asked if having to delay the repairs to do research was frustrating, Fromer said no.
"It's part of the fun with a project like this," he said. "Yeah, it does take longer to do it, but in historic preservation, that's the whole idea. To do it in a way that's compatible with [the building]."
Joe Hollins and Richie Belliveau worked high above Company Street in a cherry picker. As they carefully slid the ornament back into place, they completed the last major repair from Hurricane Omar almost four years ago.
Zandy Hillis-Star, chief of resource management for the NPS on St. Croix, said that in the wake of the storm there had been many obvious things that needed to be fixed. But as work began, they discovered more and more problems to address and decided to expand the project.
All of the park service's buildings in Christiansted received at least a few repairs. The kitchen in the Guinea Company Warehouse was restored, the bandstand and Steeple Building were reshingled, and the solid mahogany doors on the Scale House were replaced. New shutters were installed on most of the buildings.
The biggest repairs were done in the Customs House. Many of the mahogany beams supporting the roof had rotted and needed to be replaced. The building also received an overhaul to its electrical wiring and had an air-conditioning system installed.
In total, Hillis-Star estimated the federally-funded repairs cost about $1 million.
Hillis-Star was happy to see the repairs completed, but said that even more work could be done to the buildings. She said she hoped within the next year the park service will find the funds to fully restore the Steeple Building's tower by having the antique clock mechanism repaired.