Local news — St. Croix
V.I. National Guard Says Big Thank-You to Volunteers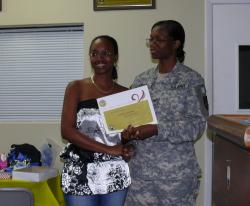 The V.I. National Guard threw a little party Thursday night on St. Croix to recognize the dozens of volunteers who give of their time to help and support families of soldiers serving overseas.
At the guard's offices in the William D. Roebuck Industrial Park, the Family Program Office held a small, informal ceremony, presenting their regular volunteers with certificates of appreciation, and profuse words of praise and thanks.
Once the words and awards were done, they raffled off a basket full of small prizes, then lined up for the buffet, complete with an enormous layer cake decorated with the words "Thank You to Our Volunteers."

A similar awards ceremony was held Tuesday on St. Thomas.
As a family readiness assistant, Nicolette Stout organizes the volunteers of the Family Readiness Group, serving the needs of the families of servicemen and women.
"Service to country is a powerful act of idealism. Service to the men and women who serve in our nation's armed forces is an act of patriotism," said Stout in her opening remarks at the ceremony.
Volunteers have carried out care package drives, organized Christmas parties, Easter egg hunts and other family-oriented outings, said Col. Linda Cills, VING personnel director.
"They are there for us whenever we have activities for the families of service members," Cills said. "Their support and their willingness to serve as a manpower resource for us when many of our soldiers are deployed overseas is very important to us."
Volunteers also give of their time to help returning soldiers adjust and reintegrate into the community, said volunteer Melinda Maynard, who's also Stout's sister. Maynard said she began volunteering because her brother in-law, Stout's husband, is in the guard.
"We do whatever is needed," she said. "When your sister is in charge of volunteers, you volunteer. It goes with the territory," she said with a smile. The work is valuable and there is really a need for more volunteers, she said, encouraging people to contact the Family Readiness Group and help out.
Stout's entire family volunteers, Cills said. "She has her father, mother and sister all on board, and all three have also been just fantastic," Cills said.
Thursday night the Family Readiness Group recognized 12 "Treasured Volunteers," those always there and ready to contribute, even when called at the last minute. Honored were: Maricia Abraham, Aquanette Clark, Capt. Leon Cook, Master Sgt. Deloris Edwards, David Francois, Lucille Maynard, Felicia Neale, Jaslyn Scatliffe, Myrtle Williams, Sandey Wilton John-Baptiste, Helen Hector, Adalen Fredricks.
Additionally, 34 volunteers were awarded for "Going the Extra Mile," while another 13 volunteers received "Thank You for Volunteering" certificates.