Local news — St. Croix
CMCA Exhibition Brings Art to Life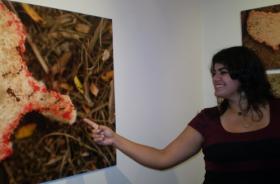 The crowd that spread over a half dozen rooms on the second floor of the Caribbean Museum Center for the Arts in Frederiksted Friday evening seemed animated by the art they were viewing at the Daily Strife art exhibition.
Standing in the room full of work by Monica Marin that used an old fashioned postcard format and Native American sayings to question the proposed Williams and Punch development's impact on the environment, how could one not get into a conversation about the future of the island and how the past should not be forgotten?
"Amalago Bay Resort and Casino is the tourist package offered," Marin said. "Why are we destroying something historical and natural?"

Marin said she was surprised to hear how many people are not in favor of the development.
"Her work really illuminated what is in the future for this beautiful area to be developed," said viewer Nate Olive. "This is very brave what she has done here."
In an adjoining room was the work of Norma Vila Rivero. Hers was not such an in-your-face, topical message. Using an array of photos whose subject was ants eating a piece of bread in the shape of the United States, she explored the ephemeral nature of worldwide migration. She titled her work "Our Daily Bread."
In another room was the work of Donald Diddams, which he refers to as digitally painted photographs. His work takes a commonplace scene – such as a young lady taking a break in a Frederiksted gallery – and enhances to push a subjective feeling of the scene to the forefront, creating a new reality.
The work at the exhibition that might have had the most potent social reference was that of Lisa Ladner. Her reference was the "third place" a place that was neither work nor home, a place where community thrives. Her photographs of people across the Caribbean and Europe enjoying this third place makes one yearn for a time when television did not dominate evening entertainment.
William Stelzer of St. John isn't attacking a social issue with his series of black and white images as much as presenting a unique perception of a social event – Caribbean carnival. And it is a perception filled with insight.
The room that runs along the length of second floor, with its windows overlooking Strand Street and the sea, appropriately contained the photographs of Diego Conde, who has been documenting the lives of people who have migrated from Puerto Rico to the Virgin Islands to make it their home.
Carmen Mojica presented photographs taken from her car window. As the photos often had a subtle focus on the image in the review mirror as well as what was in front of the camera, she seemed to have a strong message for an exhibition entitled Daily Strife. It might be that life is going in different directions at the same time or it might be that every scene in life has its corresponding scene.
The art installation of Gerville Larsen was billed as raising issues related to "the vanishing architectural landscape and its relationship to the way we view Virgin Islands culture, history, ourselves." But his work is beyond any casual interpretation in a short essay, as is the slide show of digital photographs of an array of castoff dolls by Janet Cook-Rutnik, co-curator with Lisa Ladner.
"This show has been such a good experience – I would love to do it again," Ladner said.
Candia Atwater, founder of the museum, said she is looking forward to students on school trips coming to the exhibit.

"Young people see things we don't see," Atwater said. "This opens their eyes to see numerous ways to express themselves."
The opening on Friday was followed by an artists talk on Saturday morning. The show runs through Dec.1. The exhibition and scholars presentation is funded in part by the Virgin Islands Humanities Council, an affiliate of the National Endowment for the Humanities, the Virgin Islands Council on the Arts and the National Endowment for the Arts.
Those interested in arranging student tours or obtaining more information can call 772-2622.
or