Deaths — St. Croix
Violet Jagroop Dies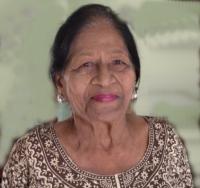 The family of the late Violet Jagroop is saddened to announce her passing on March 4. She was born April 28, 1931.
She is preceded in death by her husband, John W. Jagroop, (1990); and son, Raul Jagroop, (1950).
She is survived by her son, Steve Kemy Jagroop; daughters: Judy Maharajh, (Houston, Texas), Elizabeth Clement, Reola Oliver, Betty Ruiz, (Fajardo, PR) and Ava Gail Bourdon; sisters: Rose Sampath and Jessie Meighoo, (Brampton, Canada) and Sylvia Armoogan (Waterloo, Canada); brother, Kenny Loorkhoor (Trinidad); sons-in-law: James Oliver, Alvin Clement, Legrande Lee and Gary Bourdon; 13 grandchildren and 14 great-grandchildren; as well as many other relatives and friends too numerous to mention.
A viewing will take place from10-10:30 a.m. followed by a funeral service from 10:30-11:30 a.m. on Monday, March 10, at Holy Cross Catholic Church, Christiansted. Interment will be Immediately after the service at Kingshill Cemetery.
Arrangement entrusted to Divine Funeral Services.