Deaths — St. Croix
Jeanne Luanne Todmann Dead at 58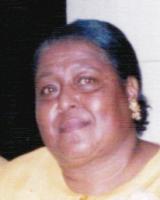 Jeanne Luanne Todmann, also known as "Lu-Lu" or "Mama Lu," of Little Princess died on June 1, at Gov. Juan F. Luis Hospital. She was 58 years old.
She is survived by her mother, Mavis Sarita Roebuck-Todmann; father, Dawes A. Todman; daughters: Alexis Leycock and Lana Liburd; stepdaughter, Lindris Liburd; son, St. Clair Liburd Jr.; grandchildren: Alleah Hendricks, Troy Hendricks Jr. and Daejon Liburd; step grandchildren: Ajahdae and Akaylah Edmunds; daughter-in-law, Cristel Rodriguez; son-in-law, Troy Hendricks Sr.; sisters: Michele Todmann-Hendricks, Dutchelle Drummond, Etta Todmann and Ulette Todmann-Hodge; and brothers: Dawes Todmann and Michael Todmann. She is also survived by brothers-in-law: Gilbert Hendricks Sr., Okemo Hodge and Ernie Drummond; nieces: Erica Hendricks, Eurece Hendricks, Jovina Drummond-Joseph, Joanne Drummond and Jovianna Drummond; nephews: Dawes Todmann, Jovan Drummond, Gilbert Hendricks Jr., Michael Christensen, Theo Todmann, Okimba Williams, Khasim Rivera, Kimari Jackson and Ernie Drummond Jr.; great nieces: DeLani Carrington, Larece Williams, Kiyana Rivera, Kha'Neisa Rivera, Okeisha Williams, China Drummond and Kei'arah Benjamin; great nephews: Dale Carrington, Erin Carrington, Gilbert Hendricks III, Karma'ni Joseph, Karaja'ni Joseph, Karmo'ri Joseph, Je'vaunte Curry and Reinaldo Vasquez; and special aunts: Sheri-Lynn O'Reilly and Paulette O'Reilly. Other survivors include godchildren: Dale Carrington, Leslie Larsen, Euclyn Prentice Jr. and Duane James; special friends: St. Clair Liburd, Henry Jeffers, Jada Liburd, Ethel Henneman, Karen Joyce, Akil Johnson, Peter Abramson, Frankey King and Jeryl Hendricks; and other relatives and friends too numerous to mention.
The family requests that mourners wear festive colors.
There will be a viewing held at 9 a.m. followed by a funeral service at 10 a.m. on Tuesday, June 15, at Lord God of Sabaoth Lutheran Church. Interment will be at Kingshill Cemetery.
All arrangements are entrusted to James Memorial Funeral Home Inc.