Deaths — St. Croix
Khephra Nicole Nielsen Dies in New York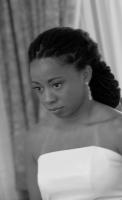 Khephra Nicole Nielsen of St. Croix died on Saturday, Nov. 7, at Memorial Sloan-Kettering Cancer Center in New York City. She was 30 years old. Khephra was born on St. Croix on June 9, 1979. She was a graduate of The Country Day School and attended Temple University in Philadelphia where she graduated in 2002 with a Bachelor of Science in Architecture. After graduating, she worked as an architect in Philadelphia and on St. Croix.
She is survived by her parents: Aloy "Wenty" Nielsen and Vivian Nelthropp-Nielsen; brother, Kimani Aloi Nielsen; sister-in-law, Stacey Nielsen; niece and nephew: Laliah and Kameron Nielsen; grandmother, Vernice Nelthropp; great aunts: Helen Crittenden, Norine Nelthropp Boyd, Carol Mae Nelthropp Hughes and Sherie Nelthropp Monts; great uncles: Brumney and Aubrey Nelthropp, Larry Nelthropp and Courtney Nelthropp; aunts: Doris Darden, Tina Darden, Deborah Nelthropp, Gladys Rohlsen, Doris Encarnacion, Dr. Corinne Nielsen Allen, Ruth D. Lang, Deloresÿ Lang, Betty Nielsen and Inez Lang; and uncles: Terrance Lang, Calvin Lang, Norman Nielsen, Louis Encarnacion and Virdin C. Brown. She is also survived by cousins: Glenn Nelthropp, Nicole Mishoe, Atu Darden, Solomon Paye, Allylesya Seifallah, Diedra Carver, Antonia Encarnacion, Justa Encarnacion, Maria Teresa Encarnacion, Liz Encarnacion, ChainieÿLang- Brannigan, Ricardo Lang, Romardo Lang, Thelma Lang, Tyra Lang, Ricky Lang, Tavia Lang, Heidi Nielsen Allen-Lake, Roderick J. Allen, Shannon Mayo, Ricky Nielsen, Peter A. Nielsen and other loving family members too numerous to mention. Other survivors include godparents: James Ross and Pamela Pegues; special friends: Monica Mauren, Michelle Prosser-Springer, Emily Gracci and Peter A. Nielsen; and very special friend, N'Kosi James.
Funeral services will be held at 10 a.m. on Friday, Nov. 20, at St. Joseph's Catholic Church in Estate Mt. Pleasant, Frederiksted. Interment will follow at Kingshill Cemetery.
In lieu of flowers, the family requests that donations be made in Khephra's name to MOTTEP (Minority Organ Tissue Transplant Education Program), by way of The St. Croix Foundation.