St. Thomas business — St. Croix
Innovative's Leadership Development Internship Team Hosts Upward Bound Students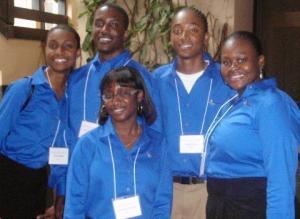 The Innovative Telephone 2010 Leadership Development Internship (LDI) Team comprised of Oswin Sewer Jr., Denelle Baptiste, Elisa Williams, Sharriann Turnbull and Gellani Latorre hosted a community service activity at the University of the Virgin Islands St. Croix Campus. Upward Bound Assistant Director Michelle Albany-Crispin said the LDI Team members have passed the torch of wisdom and the life skills needed to prepare 25 Upward Bound high school students for success in college. The team's presentation had a great impact coming from these young Interns who are making the transition from school to the working world. Zenzile Hodge, vice president of human resources at Innovative Telephone Corporation, opened the program and Jennifer Matarangas-King, Innovative Cable TV president, shared insights into the skills necessary for success in life.
The program consisted of a series of professional development topics: communication, time management, financial planning, study skills learning styles and self esteem to the 25 high school students. The Upward Bound students are: Amiah Huertas, Caleb Jones, Angelisa McIntosh, Carmen Lopez, Christopher Joseph, Dahlia George, Deidra Gibson, Destiny Rawlins, Evveta Charles, Gabriel Rivera, Israel Rosa, Jasiem Everington, Keshyande Luke, La Rue Felicien, Latisha Rawlins, Menyelek Maynard, Malikha Williams, Natasha Henry, Nehemiah Lloyd, Noelia Prospere, Sarah Sookraj, Shaiann Chiverton, Tanesha St. Brice, Vernonsha Henry and Xiomara Maisonet.
The LDI Program is open to undergraduate and graduate students who are within one year of graduation. The 10-week summer internship program offers highly motivated students an excellent opportunity to perform challenging work that links the student's education and the company's business goals. The program pairs each intern with an Innovative manager, who is committed to providing rich developmental experiences designed to grow the intern's individual leadership skills. Interns also have the opportunity to share their experiences with their peers via site visits, training/development courses, and networking events. LDI interns assigned to various Innovative business units commit to owning a project specific to their work. They are responsible for all elements of the project including planning, budgeting, communicating and executing. Each of them is given an opportunity to present his or her LDI project at the close of the program.
Michelle Albany-Crispin, Upward Bound assistant director, said, "Upward Bound was extremely pleased with the interns from the Innovative Leadership Development Team. Our general curriculum addresses the same issues of time management, study skills, financial planning, communication and self esteem; our students learn the information, but I am not sure they all relate to it easily because of the generation gap between the staff/parents and the students. When the students participate in workshops with leaders who are closer to their age, they are more open to try out the concepts reviewed. The application of the material is far greater in this type of setting. The collaboration between the two programs was a tremendous opportunity, not only for our students, but for the interns. They were able to give back to their community in a monumental way. The experiences we all had from the workshops are life changing and critical for the betterment of our community."
Each LDI Team also develops and executes a community service project on behalf of Innovative Communications. In previous years, interns have focused on addressing literacy skills in children under 10 years of age and delivering recreational and social services to the elderly. The internship program is in its third year, and this year, the LDI team took a different approach. They synthesized what they had learned and committed to passing that knowledge to future potential Interns.
When the idea of working with high school students was first presented to the interns, Gellani Latorre said, "Several times I wanted to give the students information that I wished someone had given me when I was about to leave for college. We all as college students and Interns could easily relate and mold the professional development seminar around that idea."
Oswin Sewer Jr. and Denelle Baptiste said that "we as interns wanted to not only prepare the students of Upward Bound for life after high school, but we also wanted to give that knowledge from a new perspective; one closer to their age group. We recently experienced the same things they will be going through in the near future."